A 27-year-old married woman, Mrs. Pavani, a software engineer by profession, approached Dr. Positive Homeopathy for treatment for PCOS (Poly Cystic Ovarian Syndrome), which she had been suffering from for around five years. (Visited in December 2020)
She was facing issues with her menses. They were not regular and were delayed with a cycle of more than 45+days. Though the cycles were irregular, she did not have heavy bleeding.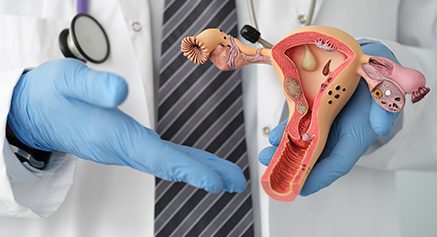 She was also having problems like 
Excessive hair fall

Hirsutism (a condition where excessive hair growth is seen on the face, chin, or parts of the body) 

Acne
PCOS Details of the patient:
She was an ardent fan of sweets and highly sweet content packaged foods. Her water intake was moderate, with around 1.5-2 liters daily. 
Her sleeping pattern was not good as she was not getting adequate sleep due to her night-shift job and also was undergoing a lot of stress. She was a light sleeper, and this has resulted in making her lethargic. 
She had a sedentary lifestyle without any physical exercise or walking. She was used to the high intake of caffeine and other junk food.
She was overweight (83kgs) according to height and age. During the lockdown period, she tried to cut down the weight with some diet restrictions but gained weight after she stopped doing so.
She had a family medical history of Diabetes and was on conventional medicine to regularize her cycles. 
After a detailed analysis, she was prescribed research-based medicines and lifestyle and dietary changes by the doctors of Dr Positive Homeopathy. 
Follow-ups done:
1st Follow-up (After one month-January 2021): She was worried because she hadn't had her period. The doctors noticed that she had lost around 2kgs of weight. She was asked to continue her medications as prescribed and to have patience. The doctor informed her that because her ailment is chronic, it will take more time to see a noticeable improvement. 
2nd Follow-up (February 2021): After 2.5 months, towards the end of January, she finally had her periods without complaining of weakness and menstrual cramps. She was analyzed and given suggestions to continue the course as told before, along with lifestyle changes. 
Weight had now come to 79.5kgs, which was going on well. 
3rd Follow-up (March 2021): She visited us in March. She reported her periods in a 30-day cycle and had no weakness. The doctors noticed no other significant changes. She was advised to continue the same medication. 
From April 2021- September 2021, The patient said she had regular periods. Her hair loss, back pain, and weakness symptoms were fully relieved. Even the acne she had complained about before and throughout her period was under control.
Major Changes observed:
Periods were regularized. 

Significant weight loss.

Hair fall has been reduced.

A healthy lifestyle has been adopted.

Cravings have subsided with no longer an urge to eat junk food.

Hormonal Imbalance has also subsided to a larger extent. 

Acne has reduced. 

Her sleep pattern improved, and she got a good amount of sleep. 
Conclusion:
This case is a classic example to show that for a noticeable change, we occasionally need to be patient and grasp the pathology of the disease. Patients with the same condition are all different. This case also illustrates how crucial patient individualization is in homeopathy. Homeopathy is incredibly useful for treating PCOD successfully, safely, and without side effects. 
Dr. Positive Homepathy has been in the field of Homeopathy for the past 20 years and is making every effort to cure diseases naturally.
Since the treatments recommended by Dr. Positive's Homeopathy specialists are risk-free and without side effects, they ensure beneficial results. They adhere to better treatment methods that help people live happier lives. Experts in Dr Positive Homeopathy can determine the underlying cause and control the menstrual cycle to encourage women's ovulation. Weight gain, acne, hair loss, and infertility can all be treated by an effective therapist.
Contact Dr. Positive Homepathy to lead a PCOS-free life. 
To make an appointment at your nearest Dr. Positive Homeopathy, Call us at +91 7337557851.